In 2013 by a group of independent primary care physicians were united in their desire to develop a physician owned and governed organization that would lead the transformation of healthcare in South Florida. These physicians understanding that while they receive only 20% of the healthcare dollars, they control 80% of the total healthcare spend.
As such they were in a unique position to reduce healthcare spending. The result of their efforts resulted in the creation of PremierMD as an umbrella organization through which physicians could unite to transform the healthcare system by working to produce lower costs, higher quality outcomes and increased patient satisfaction.

From their initial efforts, four organizations were formed:
PremierMD Management Services Company LLC, a management company that provides management services to the other three entities.
PremierMD ACO, LLC, an Accountable Care Organization ("ACO") operating under a contract with the Center for Medicare and Medicaid Services ("CMS") in the Medicare Shared Savings Program ("MSSP").
PremierMD IPA, LLC, an Independent Physician Association ("IPA") functioning as a Clinically Integrated Network ("CIN") and entering into commercial performance based contracts with payers.
PremierMD Healthcare MSO, LLC, a Management Service Organization ("MSO") entering into Medicare Advantage and other risk-based contracts with payers.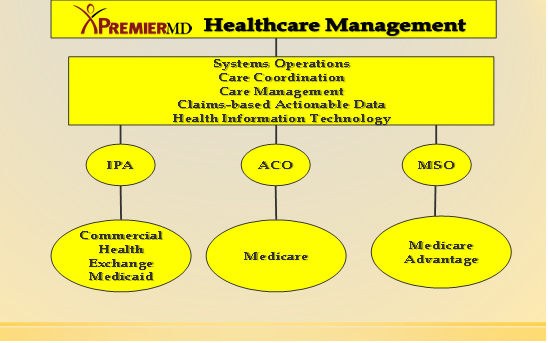 The growing cost of healthcare is unsustainable, resulting in a shift towards value and risk based payment structures. It is apparent that healthcare has entered a period of transformation which has created opportunities for independent primary care physicians.
We believe there are significant changes upcoming for PCPs. These changes are arising, in part, because of hospitals attempting to align with primary care physicians and insurance companies proposing new payment methods for the delivery of care.
In order to retain our autonomy over patient care, continue to own and control our practices, and create a prestigious and lucrative career. We have to work collaborately through a properly structured PHYSICIAN OWNED, OPERATED, AND GOVERNED clinically integrated network that will control an Independent Practice Association (IPA), an Accountable Care Organization (ACO), and a Management Service Organization (MSO) while still maintaining your office independence and your individual Tax ID number.
With this infrastructure we:
• Are able to negotiate with hospital and third party payers for reimbursement improvements, shared savings, and contract security
• Continually maintain the highest quality for our organization's operations and services
• Review and analyze meaningful medical data, become innovative, and take an active role in shaping the healthcare delivery system around us
This provides a compelling value proposition to patients, insurance companies, hospitals, and Medicare. The PremierMD organization is now comprised of 200+ physicians in Dade, Broward and Palm Beach counties and growing!!!
Our guidelines include the ability of member physicians to maintain their practice autonomy, preserve their independence and govern themselves while achieving the triple aims of lower costs, quality outcomes and improved patient satisfaction.
PremierMD will manage population health by focusing on delivering quality outcomes at lower costs by affiliating with aligned physician practices. We will make investments in advanced clinical technology and providing additional management personnel support.
PremierMD understands the transformation of healthcare from volume based (fee for service) to value based (pay for performance). It is managing this change through::
High-risk beneficiary reporting.
Reporting on frequent users of hospital and ED admissions.
Chronic disease registry.
Attribution and care-retention analysis.
Practice enhancement tools.
Coordination of care and case management to improve outcomes data.
Evaluate applicable quality and cost metrics.
Survey and satisfaction data.
Chronic care management
We welcome you to become part of our revolution to transform healthcare.