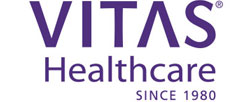 Description
VITAS® Healthcare is a pioneer and leader in end-of-life care with more than 35 years of experience caring for fragile patients and managing care transitions: from hospital to home, from curative to palliative, from chronic to end-stage.
Patients receive individualized services from an interdisciplinary team of hospice specialists—physician, registered nurse, hospice aide, social worker, chaplain, volunteers—who provide four levels of care, according to patient and family needs: routine care in the home, shifts of acute symptom management in the home when medically necessary, round-the-clock inpatient care when symptoms cannot be managed at home, and respite inpatient care when the family caregiver needs to be away.
VITAS lengthens the continuum of care and helps families cope with serious illness by providing palliative and hospice consults and care, medical equipment, medications and supplies. VITAS is always available—24/7, holidays and weekends.
Locations
VITAS has several locations throughout south Florida.
http://www.vitas.com/fl/miami-fort-lauderdale-hospice
Contact
If you are a managed care provider and would like to learn more about the ways VITAS can support your efforts, please call our National Accounts team at 800.873.5198.
To request information click the link below and complete the online form.
http://www.vitas.com/contact-us/national-accounts/request-information
News and areas of interest
Making the Rounds Blog: These articles provide our professional healthcare partners and clinicians with useful information about hospice, end-of-life care, and related issues.
http://www.vitas.com/partners/making-the-rounds
Reducing 30-Day Readmissions Penalties
http://www.vitas.com/partners/reduce-readmissions/30-day-readmissions
A Hospice Partnership—Working with VITAS
http://www.vitas.com/partners/national-accounts